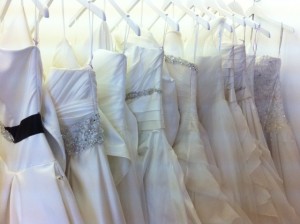 Selecting the perfect wedding gown is a unique experience for every bride. For some, the process is exciting! Decisions can be made quickly and there is a clear vision of what the bride wants to look like on their wedding day. For others, the process can be more challenging. Finding the right style to suite your body can be difficult.  Looking on-line and through the magazines can be great for getting ideas, but it is also very misleading. Do go through bridal magazines, books, and websites to learn about fabrics and silhouettes. Start a folder with pictures of dresses or details that you like, and take it with you when you shop. But, you have to try on a variety of styles to make an educated decision. Sometimes what you think you want may not be the best style for your body shape.
When you first venture out to try on dresses,  you need to keep an open mind! Even if a bridal consultant encourages you to try on gowns that may not seem like your style, follow their lead. Some dresses may not look like much on the hanger but look great on. You won't know unless you try it on. On the other hand, never let yourself be talked into purchasing a gown you're not in love with.
You need to start your search early! Begin shopping at least six to ten months before your wedding. It takes anywhere from four to six months for a manufacturer to make a dress and another month to finalize your alterations. Last minute shopper? Many shops can do rush orders for an additional fee, but your choices will be limited. If you choose a Canadian designer, the possibility of getting your dream dress in a pinch is better, some needing as little as six weeks to fill an order. Bottom line – the more time you have, the more possibilities open to you to choose from.
It is helpful to get advice and input from close friends and family, but the ultimate decision is for you, the bride.  Don't make a hasty decision you might regret later. Invite one or two people who know your taste and will be honest with you. Take time to picture yourself on your wedding day. Think about how you want to feel and the specific look that you want to capture. It is the most expensive piece of clothing you will ever purchase (for most of us!), so choose wisely.
Make sure to set your budget! Figure out how much you want to spend, and let your bridal consultant know before she starts bringing out gowns. That way you won't lose your heart to a dress you can't afford. Factor in extras, such as accessories, shoes, alterations, etc. They all add up!
Focus on the fit, not size. Bridal wear runs smaller than store-bought clothing; if you normally wear a 10, you may need a 14. So forget the numbers and order the dress that fits.  Another important fact to remember: it is much easier to take in a bridal gown than it is to let out.
Your wedding location will also weigh into your decision. Knowing the place and time of your wedding will help focus your search.  A romantic, light, free flowing wedding dress is ideal for a beach setting while a dramatic and regal bridal gown is lovely for a formal cathedral event.
In the end, there are no rules. Don't compromise your idea of a dream dress.
We are always excited to hear your story and help you navigate through the different looks available in our boutique.  We want to make your experience fun, relaxing and enjoyable.
Ultimately, it's your day… follow your heart.