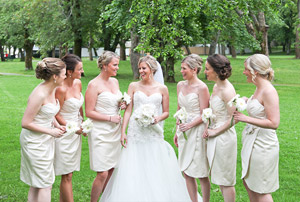 Congratulations! You've found your perfect wedding gown! The one that reflects your style and personality, fits your wedding locale and fits your budget! This was no easy feat…finding THE gown is a big decision. So, congratulations on checking that one off the list.
But it's not over yet.
You've picked your gown, selected your size and colour, made your down payment and now…you wait.
That is when the nerves and even panic can set in. The waiting…Once your dress does arrive, it's time to try it on! This is often a stressful moment, but why? Brides can forget what their dress looked like, they may second guess their choice, worry if they've gained (or lost) a few pounds or just general anxiety.
Here are four things to keep in mind when to keep those fears at bay:
1. Choosing a Size
Do not order your dress thinking that it will be the same size as you would wear in your everyday clothes. Wedding gowns are generally made small and you will typically need to order a dress 2 times larger than you would normally wear.
Do not order a dress a few sizes too small in hopes of getting fit for your big day. This will only lead to disaster. No one is looking at the tag inside of your wedding gown, but they will notice if you can't sit down because the dress is obviously too small. You should feel great about the dress your ordering in the size you are today. Should you lose a few inches, lovely, these adjustments can be made once your gown arrives.
Remember, it is much easier to take fabric away than it is to add fabric (sometimes it is impossible).
2. Fittings with your seamstress
Be comfortable with the person you've chosen to adjust your dress, you've given them a pretty important job to do. Make sure when you go into your fittings that you move around, sit, walk, breathe, even dance. Make sure you can do all the things you are going to be doing on your wedding day. Standing still and twirling won't be the only thing you will have to do on your big day so you need to be sure that you are comfortable. If a certain adjustment hinders your comfort, you need to tell your seamstress. There are always other solutions.
3. Remember to Bring Your Wedding Shoes
Brides often leave their shoes as their last purchase. You need to have THE shoes for your fittings. In order for you hem to be correct, the shoe choice needs to be solid. You can make a dress shorter but too short is…well, too short. So, bring your shoes to every fitting. Give them a road test…try them out on the stairs, carpet, tile….it's a long day and you need to be able to move through it gracefully.
4. Bring Someone with You
An extra set of eyes who will give you their honest opinion. Someone who will tell you if something isn't fitting right or if you're popping out somewhere. Bring someone you trust and who knows your style. Someone who will be as picky about your details as you are.