1. Bad Luck To See The Bride.
Traditionally, the bride was not to be seen by her partner before the ceremony to prevent bad luck. Today, more and more couples are actually choosing to have a first look. We think it's such a great opportunity for the couple to enjoy seeing one another for the first time without the pressure of your guests watching. It is also easier on your wedding day schedule. You have your pictures taken before hand while your hair, makeup and clothing are still fresh, which leaves time between the ceremony and reception to spend more time with your guests.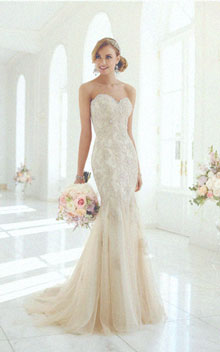 2. A White Wedding.
Queen Victoria started the tradition of a pure white wedding gown in the 1800's. Since then, white and ivory have ruled the wedding dress world. Today, colour is starting to make a huge come back in bridal fashion, and we couldn't be happier about it! Brides can choose from a variety of hues to dawn on their big day. From soft and subtle shades like champagne, café and almond, to bolder tones like blushes, blues and golds, brides now have a much wider range of choices than years ago.
3. The Bride's Family Pays The Bill.
Traditionally, the bride's family footed the bill for the ceremony and reception, while the groom's parents took care of the rehearsal dinner. These rules are now a thing of the past. Many mother and father of the groom wish to pitch in for the big day. Many couples even pay their own way. As long as the end result is a happy marriage and a wedding that everyone can afford, it really doesn't matter where the money comes from.
4. Let Them Eat Cake.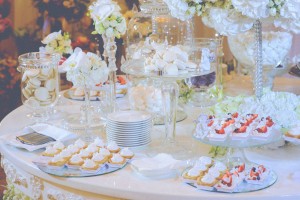 Serving a large, tiered wedding cake is a long-standing tradition in the wedding world. Modern day weddings have been showing a wider variety of dessert options, appealing to any sweet tooth. Some alternatives to consider include cupcakes, ice cream sundaes, cake pops, macaroons, donuts, candy bars and more! We have even seen brides take things to the next level by putting on a full spread dessert buffet with every kind of treat you can imagine. Now that's a wedding we'd love to go to!
5. 'Til Death Do Us Part.
Traditional vows have become a thing of the past. Couples are choosing more contemporary versions of these vows with updated ideals behind them. Alternatively, many are also choosing to wright their own vows. Take this chance to say exactly what is in your heart to the person you love most and to share that love with your friends and family.